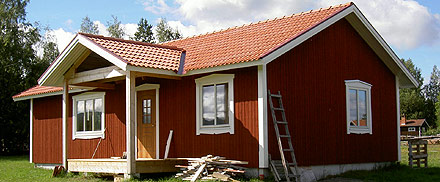 Welcome to our home on the Internet!
This is a picture of our home "Lissånäset" in Dalarna, Sweden. It's still not ready to live in - but will be! :) Since Fiji is further away than walking-distance for most of you, this homepage will be our way of inviting you to come and stay with us for a while. Have something to eat (a "fika" as we say in Sweden), take some time to rest and read as you are enjoying a cup of coffee or tea. We hope you will like it (even though you have to make your own coffee...) and that you'll get the information you want.
If you want to get in touch with us, please send an e-mail and tell us what's up. It means a lot to us to hear about what's happening in your lives! Let us know if you want us to pray for something. (Thanks to Him we'll always be in prayer-distance…
We want to thank all of you who are supporting us now when we are serving with Marine Reach, YWAMs mercy ministry in Polynesia. We really do appreciate you working side by side with us in prayer. God is truly good and together we can show people that He really cares!
Our base is located in Lautoka, the second largest city on Viti Levu, the largest island of Fiji Islands. Our ministry is to travel with our "Mercy-truck" and cars to remote villages to give medical services, pray with people and sometimes work with teams in building-projects (digging wells, building/painting houses etc). Fredrik works as team-coordinator, being responsible for incoming teams from oversees (DTS-teams, Church teams etc). Sofia is part of the Medical team. More details about the ministry and our work are viewed under "Ministry" here on our webpage and at www.marinereach.com We're so grateful for all your prayers and support and we want to say thank you!
There are some people and churches we would like to thank especially for supporting us financially and these are:
Centrumkyrkan, Mora (our home church)
Elim- and Missionsförsamlingen, Siljansnäs
Pingstkyrkan, Borlänge
Filadelfiaförsamlingen, Orsa
Pärlan, Gustafs

Friends and family - what would we do without you!

If you want to support us in prayer, we will share specific prayer-needs under Contact. If you want to see pictures, check out Gallery. Also feel free to get in touch with us if there is something you want to share!